9 Essential Items Men Should Have In Their Backpacks When Going Out
When going out, men will not know what situations they have to face. If you don't prepare the necessary items, you will easily get into trouble. And here are nine items that men should have in their backpacks to protect themselves and become more sophisticated people!
Must-have items for men when going out
The following are all basic and compact items that you can easily put in your leather backpack, even if it is a small mini backpack.
Leather Wallet
Having a good leather wallet with plenty of compartments for cash and a few cards is something everyone needs when out and about. Even if you are confident that you won't spend any money, maybe in an unexpected situation, you meet some friends on the street and they invite you to coffee, or unfortunately, something happens. Also, won't your men's backpack be very messy if cards and papers are thrown around in it. Thus, putting it in a backpack due to a wallet will help you organize the inside of the bag more neatly. When you need to get money or cards, it is also very quick.
Cash
Although Online money transfer services of banks, Apple Pay, Samsung Pay, and swiping cards are popular in shopping malls and cafes, they are not as popular in traditional shops or markets, where customers still pay in cash. Therefore, at these times, cash is still very important. You should have some money in your wallet instead of just cards. Not to mention, when you just need to pay $1 or $2, it will take a lot of time to log in to the app and wait for the staff to swipe your card for you.
Headphones
This is another essential item that every guy should have in his leather backpack . You won't see the need for them until you receive an important call or need intense focus. You don't need to choose an expensive headset, as long as it has good noise cancellation.
Lighter
For men who often smoke, lighters will definitely be put in men's backpacks and taken out. But what if you don't smoke? They are still very important in lost situations or as a way to strike up a conversation with other people. In particular, a lighter with a unique style is also a way to show your personality and impress the opposite people.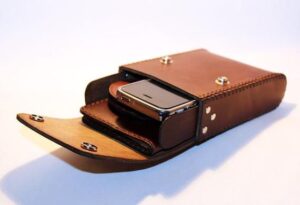 Pocket Knife
An elegant pocket knife can be a gentleman's great tool, as well as a lovely accessory. A knife is an incredibly versatile tool—you can use it for everything from food prep to unpacking, to fixing office miscellaneous items and stripping cables. It will probably be the most used tool in your leather backpack.
Gum and Mouth Spray
Ensuring fresh breath is paramount for anyone who comes into contact with other people, and it's always a good idea if you have a few extra gum or mouth spray in your backpack because you never know when you might meet someone you want to impress from the first minute.
Power Bank
In today's digital age, everything can be handled through a smartphone. However, during the times when you are out and you need to solve the problem urgently, what will happen if the phone is out of battery and power off? So, always carry a charger or power bank in your leather backpack.
Sunglasses
From a fashion and comfort standpoint, one of the worst things you can do is leave the house on a sunny day without wearing sunglasses. On the other hand, on days when you need to move outside in the hot sun, sunglasses are the simplest way to protect your eyes.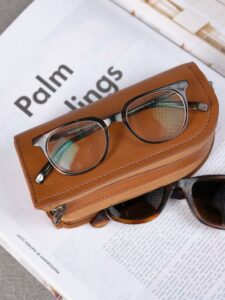 Mini First Aid Kit
Take a small box and put in it some gauze, bandages, dressing aids, disinfectant spray, adhesive tape, tweezers, cotton balls, and some medicine like pain relievers, antibiotics, and anti-inflammatory drugs will help. They will help you fix small injuries and give first aid to others if you have unexpected problems.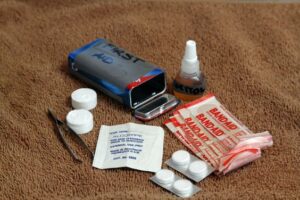 These items you can carry in your bag, backpack, car trunk. Although it is very simple, it is extremely necessary.
In addition to these essential items, you can put in the men's backpack other necessary items according to your needs and work. Suggest the items you want for men to bring that you know in the comments below.