Description
Black Alligator Vietnam Leather watch strap 24mm,22mm,21mm,20mm,19mm,18mm,16mm,14mm , Alligator handmade leather watch strap
Black leather watch strap… are handcrafted in our workshop, using only the finest selected high-grade leather, the finishing stages of a set of watch bands are all done by us meticulously, elaborate with each needle, stitch, stages: cutting, pasting, chiseling, stitching all by hand for a great finish.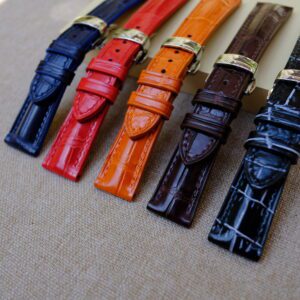 (Color may vary slightly due to shooting or lighting)
***** IMPORTANT *****
— Free of charge Quick release spring bar and Silver Buckle
*** Please be careful when ordering Width LUGS and Width BUCKLE , please measure and check for accuracy before ordering "if you don't know what LUGS and BUCKLE are please check the pictures attached on the listing" specific instructions).
— For example 22/20mm, 22 is the Width Lugs, 20mm is the Buckle Width
— Be careful with the length of the strap, to get the correct length please measure the radius of your wrist and compare it with the list below then choose in the option when order .
***Length here is understood as the length of long strap (with hole) and short strap (side length with buckle).
— For example 120/75mm, 120 is the long side, 75 is the buckle side
— See description image attached with listing for a good understanding of length dimensions. If you can't choose a length from the options please choose "length custom" and leave a message with your desired length or any request.