Description
Buttero apple watch band
Apple watch with white band 44mm 42mm 40mm 38mm : We strive to make your shopping experience positive by providing first-class customer service and high-quality leather straps! Through our commitment, experience and expertise, we aim to establish a relationship with customers that will last a lifetime and see our watch bands worn on wrists around the world.
Making handmade leather apple watch strap
Buttero Lether is a famed Italian Leather originating from the Conceria Walpier Tannery. This tannery was founded in 1974. Dating back over 40 years Buttero Leather has a long family heritage and continues to strive for some of the highest quality and most sort after leather on the market. They use a traditional vegetable tanning process, a process itself that dates back to ancient times, to care for a natural leather that adapts to any type of product.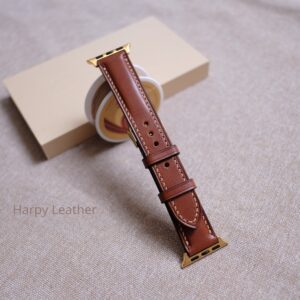 With a superbly smooth top finish, buttero gives a feel in hand like no other leather. Over time this gathers patina that makes the leather glossier. We will note that the leather can mark and scratch easily, but it is this wear that makes the leather only get better with age.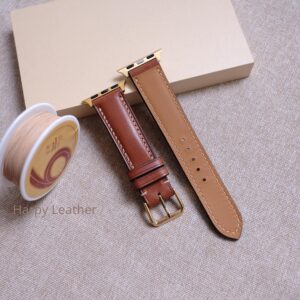 Apple leather watch band… are handcrafted in our workshop, using only the finest selected high-grade leather, the finishing stages of a set of watch bands are all done by us. I meticulously, elaborate with each needle, stitch, stages: cutting, pasting, chiseling, stitching all by hand for a great finish.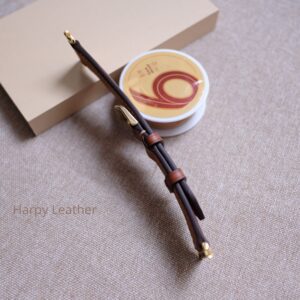 Making handmade leather watch band
We select the vintage leather and it is totally handmade so that the superior quality of the watchband can be realized in every production procedure. The watch band is very appreciative and special in terms of design and style, showing the uniqueness of your watch.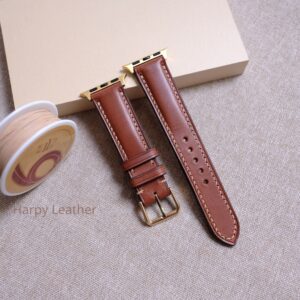 Note:
+ While ordering in the "Notes" section, please provide information so that they make the correct strap
+ Your wrist size, you can refer to the chart below to determine the correct wire length
Wrist chart:
(Color may vary slightly due to shooting or lighting)
Length optional by length here
S = 2.36 " _3.9 " inch ~ equivalent: 60mm x 100mm
M = 2.55 " _ 4.31 " inch ~ equivalent: 65mm x 110mm
L = 2.71 " _ 4.68 " inch ~ equivalent: 70mm x 120mm
XL = 2.95 " _ 4.68 " inch ~ equivalent : 75mm x 120mm
2XL = 3.18 _5.43 " inch ~ equivalent to 80mm x 138mm
Dimension correction is available upon request. Add comments to your order or message me.
Techniques of crafting high-end handmade leather goods are my passion. And premium service is my promise to you.