Description
crazy horse craft wallet
Men's leather wallets, handmade leather wallets, genuine leather wallets, vintage leather wallets, crazy horse leather wallets, all of our high-end leather wallets are handcrafted by professional artisans. We only provide high-quality, high-quality handmade leather purses to customers.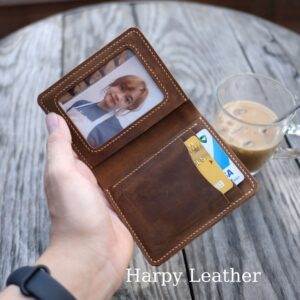 Crazy horse leather wallet are very durable, strong and also its gives men's slim crazy horse wallet an unique look and feel which combines luxury and antique touch. With the wax applied to the leather, it protects the cray horse leather bifold wallet, front pocket wallet with water resistant and makes it more durable.
crazy horse craft wallet
A simple scratch or rub turns the leather fibers to a different shade, a slight bend and the entire bend line fades to a different shade as well, and still this type of leather is as durable as any other high quality leather. The leather has been treated to look and feel aged while retaining it's toughness. The more you use it, the better it looks.
crazy horse craft wallet review
What is crazy horse leather ?
Crazy Horse Leather is made with the highest quality materials, supplied by the best suppliers in the field. The leather used is full grain cowhide that is of the highest quality in terms of color and strength.
Crazy Horse leather is produced by highly skilled craftsmen utilizing only the finest quality 100% natural leather. This rich full-grain cowhide is treated with natural wax, then hand finished to excellence– developing a water-resistant leather that is durable, lovely, and buttery-soft to the touch.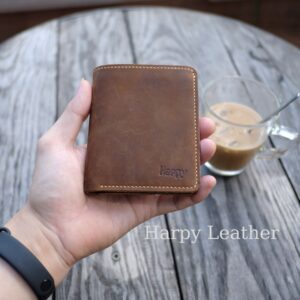 Crazy horse leather is made by applying a thick layer of a special type of wax to a full grain cowhide surface that has been smoothed and polished to give it a shiny and smooth feel. The wax will improve the fibers of the leather and cause small changes in the tone, shape and appearance of the material. This gives it a timeless appearance that ages beautifully over time, to increase the vintage look that Crazy Horse Leather is known for.
Through the process that is applied to full grain cowhide, it is guaranteed that this leather will withstand many years of use and abuse without wear.