Description
Mens slim wallets
Harpy Leather has built the best reputation in making a wide range of quality men's leather wallets and women's leather wallets.
Each men's wallet is individually handcrafted by our master artisans to the highest standards using traditional skills and accumulated experience. This ensures that every wallet will be a joy to own and use for years to come.
Making a slim wallet
Best slim men's wallet
The perfect blend of a traditional bifold wallet and a front pocket wallet. A minimalist vetical wallet keeps things light, simple and compact, freeing up some extra space in your pocket. It also saves you the hassle and discomfort of carrying a traditional bulky wallet in your pocket, allowing you to carry only the important things.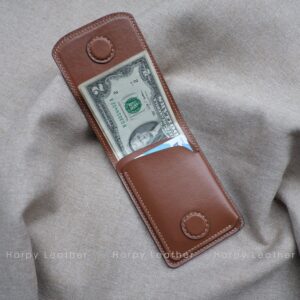 If you're looking for a wallet that is small and compact enough to slide right into your front pocket, then look no further. Don't be fooled by its small size, big things come in small packages! Store credit cards, business cards, or folded bills in this condensed front-pocket wallet! Crafted using Nappa Leather, this wallet was built with a guarantee to last. Cut down on bulk with this front-pocket wallet !
Napa leather is very popular in automotive seats and other furniture. It's stylish and elegant, not to mention durable. Among other uses, this product is very popular for furniture upholstery, clothing like jackets and gloves, wallets, briefcases, handbags, shoes, and heavy-duty leather items such as holsters or utility belts.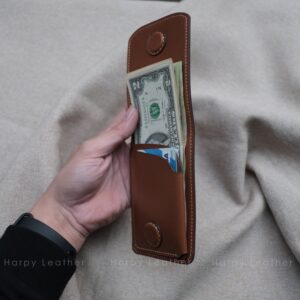 Nappa leather is top-quality leather that undergoes a unique tanning process and is softer and more pliable than most hides. It was named for the Napa Valley in California, where the tanning company that developed it was located
mens slim wallet leather
Each one of Harpy Leather rustic, durable leather products is made with care and craftsmanship, with every item handmade to the highest standard. Our confidence in our products knows no bounds, so we include each product that you purchase with a 5 Year Warranty. We aim for nothing but 100% satisfaction when it comes to our products, so if you're not satisfied, just get in touch with us and we'll help you as quickly as possible.
We also make customized products, so we accept some variations in products (leather type, dimensions, details, inscriptions, etc.). If this is your case, contact me and I'll tell you if possible.
All HARPY items are handcrafted in our studio, from the design and pattern to cutting and hand stitch.
Finely Hand Stitched :
We are proud that each and every one of our products is handmade by expert artisans of Harpy. Each item is hand cut and finished with a fine stitching method than not only looks good, but also makes for a durable finish that will give you a lifetime of use.