Rally Watch Strap
One way to spruce up your watch is by using a classic rally watch strap. Also known as the "racing watch strap," this kind of strap is inspired by racing or motoring. The design of the band is specifically derived from traditional gloves that are used in racing.
Racing watch strap
The "Rally" or "Racing" strap is essentially made of leather, perforated all along its length. The origin of the strap in question dates back to the 1970's. The puncture pattern was directly inspired by the perforations present in certain parts of racing cars as a way to reduce weight. Another inspiration is the tiny perforations of race car seats or racing driver's gloves, which we can't get enough of.
Our bands are well-known for their durability, high quality, and nice style. Impress your mates in any racing game or outdoor activity with your elegant racing rally watch strap.
Rally Strap
Rally straps are handcrafted in our workshop, using only the finest selected high-grade leather, the finishing stages of a set of watch bands are all done by us meticulously, elaborate with each needle, stitch, stages: cutting, pasting, chiseling, stitching all by hand for a great finish.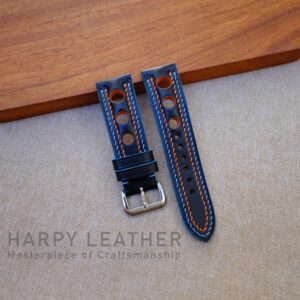 Other variations of rally watch straps have large holes, each of the same diameter placed on the middle part of the strap. The small circles or ovals are placed on each side of the straps' edges.
Apart from these two, there is another racing watch strap, which has small holes, each of the same size. All of them are distributed evenly on the surface of the band.