Description
Red Slim Leather Watch Strap 24mm, 23mm, 22mm, 21mm, 20mm, 19mm, 18mm, 17mm, 16mm, 14mm. High quality handmade watch strap , Buttero – italian watch strap
Red slim watch strap is a classic and versatile choice that adds a touch of sophistication to any timepiece. Crafted with attention to detail, these straps are designed to complement various watch styles and enhance the overall aesthetics.
Red Watch Strap
The red slim watch strap is a sleek and minimalist accessory that combines style and comfort. With its slim profile, this strap offers a streamlined and modern look that complements any watch face.
Crafted from high-quality materials, the red slim watch strap is designed to be both durable and comfortable, which provides a soft and supple feel on the wrist. The red color adds a touch of sophistication and versatility, allowing it to seamlessly match various watch designs and outfits.
The slim design of the strap not only enhances the aesthetics but also ensures a lightweight and unobtrusive fit. It sits close to the wrist, offering a comfortable wearing experience and preventing the strap from getting in the way during daily activities.
red watch strap
When selecting a red slim watch strap, consider the width that matches your watch's lug size. Common widths range from 14mm to 24mm, although other sizes may be available. Ensure that the strap is compatible with your watch model by checking the lug width measurement before making a purchase. 
The red color of the strap adds warmth and sophistication to your timepiece. It exudes a sense of timeless elegance and versatility, allowing it to seamlessly blend with both formal and casual outfits. Whether you're attending a business meeting or enjoying leisure time, the red slim strap complements your style with its understated elegance.   
***** IMPORTANT *****
— Free of charge Quick release spring bar and Silver Buckle*** Please be careful when ordering Width LUGS and Width BUCKLE , please measure and check for accuracy before ordering "if you don't know what LUGS and BUCKLE are please check the pictures attached on the listing" specific instructions).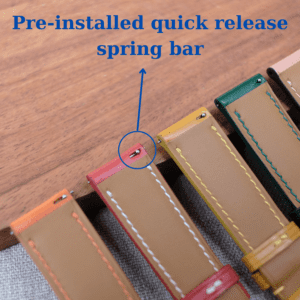 — For example 22/20mm, 22 is the Width Lugs, 20mm is the Buckle Width
— Be careful with the length of the strap, to get the correct length please measure the radius of your wrist and compare it with the list below then choose in the option when order.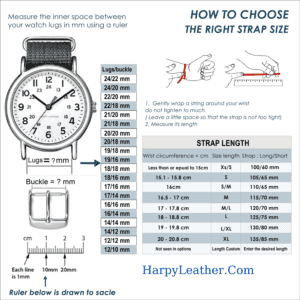 ***Length here is understood as the length of long strap (with hole) and short strap (side length with buckle).
— For example 120/75mm, 120 is the long side, 75 is the buckle side
— See description image attached with listing for a good understanding of length dimensions. If you can't choose a length from the options please choose "length custom" and leave a message with your desired length or any request.
— All of our watch straps are entirely handmade one by one, utilising traditional leather crafting techniques. They are cut, saddle stitched and edge painted by hand to ensure that your strap lasts you a lifetime. All of our straps are lined with Zermatt leather, a hypoallergenic and water-resistant French calf leather.