Description
Red watch straps
We strive to make your shopping experience positive by providing first-class customer service and high-quality leather straps! Through our commitment, experience and expertise, we aim to establish a relationship with customers that will last a lifetime and see our watch bands worn on wrists around the world.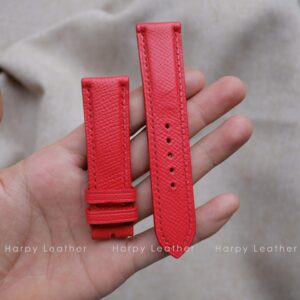 Harpy Leather has built the best reputation for making quality Handmade Watch Straps. Each set of handcrafted watch straps is individually handcrafted by our master artisans to the highest standards using age-old traditional skills handed down through generations. This ensures that the bracelet will be a joy to own and use for many years to come.
Diversity of colors, youthful personality or elegant elegance, helping you feel more confident, stylish, and elegant in all circumstances.
Red leather watch strap
Red leather watch strap… are handcrafted in our workshop, using only the finest selected high-grade leather, the finishing stages of a set of watch bands are all done by us. I meticulously, elaborate with each needle, stitch, stages: cutting, pasting, chiseling, stitching all by hand for a great finish.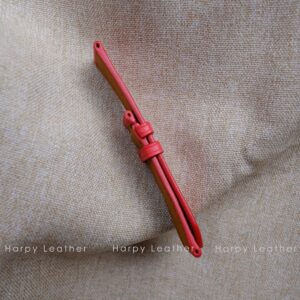 Manufacturing Techniques: We select the vintage leather and it is totally handmade so that the superior quality of the watchband can be realized in every production procedure. The watch band is very appreciative and special in terms of design and style, showing the uniqueness of your watch.
This package came with a tool and a pair of spring bar for free. You can easy to replacement the strap. If there is any problem with your receive strap , Please feel free to contact us . We will solve it till your satisfaction.
Red watch strap handmade leather
Harpy's leather straps are made entirely by hand – no machines are used to manufacture the strap. Each strap is individually cut, sewn and finished by hand and made to order using traditional techniques and accumulated experience. Furthermore, no part of this process is outsourced – just HARPY and traditional hand tools here, working with high-quality leathers to create the best possible bracelet for the watch.
Techniques of crafting high-end handmade leather goods are my passion. And premium service is my promise to you.