Description
Seiko Watch Straps
When you want to replace your Seiko watch bands, HarpyLeather is your best friend. We make sure watch mod ideas around the world get quality replacement watch bands. Here you will find a great choice of watch bands for the top Seiko models, whether you own a Seiko 5 or some other Seiko watches.The above Harpy Leather watch bands collections are custom made for you Seiko watches. Seiko watch straps replacement, for Seiko Mods or upgrade : SKX, SKX007, SKX013, Turtle SRP777, Marinemaster MM300, Baby MM, Sumo, Samurai, Alpinist, SARB033, Seiko 63MAS (SPB143), over 20 Seiko watch hot models.
Making an Harpy Handmade Leather Watch Strap
seiko watch strap leather
This Seiko watch strap is handmade, using premium French cowhide. It is made of scratch-resistant, water-resistant grained cowhide. Underside Zermatt Leather comfortable, breathable and deodorant. The watch band is sturdy, durable and can be worn for a long time.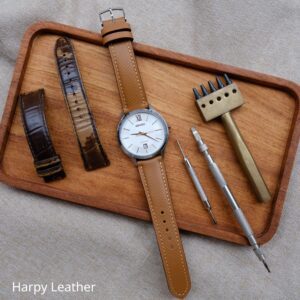 seiko watch bands
Manufacturing Techniques: We select the vintage leather and it is totally handmade so that the superior quality of the watchband can be realized in every production procedure. The watch band is very appreciative and special in terms of design and style, showing the uniqueness of your watch.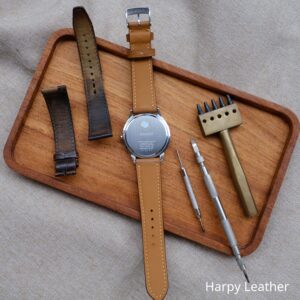 This package came with a tool and a pair of spring bar for free. You can easy to replacement the strap. If there is any problem with your receive strap , Please feel free to contact us . We will solve it till your satisfaction.
seiko watch strap handmade
Harpy's leather straps are made entirely by hand – no machines are used to manufacture the strap. Each strap is individually cut, sewn and finished by hand and made to order using traditional techniques and accumulated experience. Furthermore, no part of this process is outsourced – just HARPY and traditional hand tools here, working with high-quality leathers to create the best possible bracelet for the watch. your. Lake. friend. I am passionate about handcrafted leather goods and I believe that my passion and attention to detail is evident in my work.