Description
Yellow rally watch strap is a beautiful and unique accessory that can add a touch of vintage charm to any watch. Handmade straps are crafted with care and attention to detail, and offer a level of quality and craftsmanship that can't be matched by mass-produced straps.
Rally watch strap
A rally watch strap is a type of watch strap that was popularized in the 1960s and 1970s. It is characterized by its perforations, which were originally designed to allow for greater ventilation and comfort while driving in races or rallies.
The strap is typically made of leather, although it can also be made of other materials such as nylon or rubber
leather rally straps
Rally watch straps are still popular today among watch enthusiasts and collectors, and can be found in a variety of styles and colors to suit different tastes and preferences.
Today, rally watch straps are available in a wide range of materials, including leather, nylon, and rubber. They come in various colors and styles, from classic black leather with white stitching to bright and bold colors that make a statement. The buckle of the rally watch strap has also evolved, with many modern straps featuring a deployant clasp that provides a secure and comfortable fit.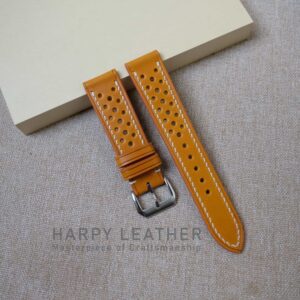 Whether you are a motorsports enthusiast or simply appreciate the timeless elegance of mid-century design, the rally watch strap is a classic and versatile choice that can add style and personality to any watch. With its unique combination of functionality, comfort, and style, the rally watch strap is a true icon of the watch world that has stood the test of time.
Leather rally watch straps
One of the significant advantages of the rally watch strap is its versatility. It can be worn with both sporty and dressy outfits, making it a perfect choice for those who want to transition effortlessly from a casual day out to a formal event. For example, a black leather rally strap can add a touch of sophistication to a dress watch, while a bright red or yellow strap can add a pop of color to a sporty chronograph.
Another advantage of the rally watch strap is its comfort. The perforations not only provide ventilation but also reduce the weight of the strap, making it comfortable to wear for extended periods. This feature makes the rally strap ideal for those who lead an active lifestyle or engage in sports activities.
yellow watch strap
In addition, the use of quick-release spring bars makes the watch straps easily interchangeable, allowing you to experiment with different colors and styles to match your mood or outfit. . This versatility and ease of customization make rally watch bands a popular choice among watch enthusiasts and collectors.
Rally strap
The rally watch strap is a timeless and versatile choice that has become an icon of mid-century design and motorsports culture. With its unique combination of functionality, comfort, and style, the rally watch strap is a must-have accessory for any watch enthusiast or collector looking to add a touch of personality to their timepiece.
Handmade rally watch strap
Harpy Leather's rally watch straps are designed with both style and function in mind. The perforated design of the strap provides improved ventilation and comfort during active wear, while the vintage-inspired look adds a touch of classic charm to any watch.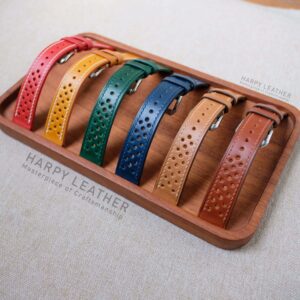 What sets Harpy Leather apart from other leather goods companies is dedication to quality craftsmanship and attention to detail. Each strap is handcrafted using only high-quality leather and buckles, ensuring that each band is unique and built to last.
In addition to its commitment to quality, Harpy offers a variety of customization options for Rally watch bands. You can choose from a variety of leather colors, leather types, finishes and stitching styles, as well as hardware options like buckles and keepers.
***** IMPORTANT *****
— Free of charge Quick release spring bar and Silver Buckle*** Please be careful when ordering Width LUGS and Width BUCKLE , please measure and check for accuracy before ordering "if you don't know what LUGS and BUCKLE are please check the pictures attached on the listing" specific instructions).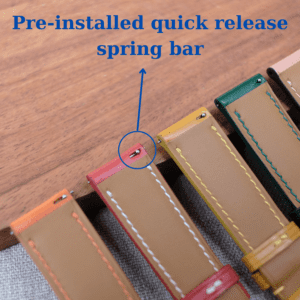 — For example 22/20mm, 22 is the Width Lugs, 20mm is the Buckle Width
— Be careful with the length of the strap, to get the correct length please measure the radius of your wrist and compare it with the list below then choose in the option when order.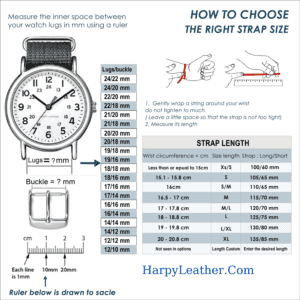 ***Length here is understood as the length of long strap (with hole) and short strap (side length with buckle).
— For example 120/75mm, 120 is the long side, 75 is the buckle side
— See description image attached with listing for a good understanding of length dimensions. If you can't choose a length from the options please choose "length custom" and leave a message with your desired length or any request.
— All of our watch straps are entirely handmade one by one, utilising traditional leather crafting techniques. They are cut, saddle stitched and edge painted by hand to ensure that your strap lasts you a lifetime. All of our straps are lined with Zermatt leather, a hypoallergenic and water-resistant French calf leather.