Description
Buttero Dark Brown Leather watch strap 24mm, 22mm, 21mm, 20mm, 19mm, 18mm, 16mm, 14mm
Dark Brown leather watch strap… are handcrafted in our workshop, using only the finest selected high-grade leather, the finishing stages of a set of watch bands are all done by us meticulously, elaborate with each needle, stitch, stages: cutting, pasting, chiseling, stitching all by hand for a great finish.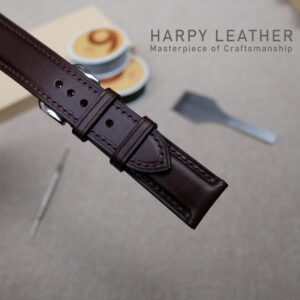 What is buttero leather ? 
Buttero Lether is a famed Italian Leather originating from the Conceria Walpier Tannery. This tannery was founded in 1974. Dating back over 40 years Buttero Leather has a long family heritage and continues to strive for some of the highest quality and most sort after leather on the market. They use a traditional vegetable tanning process, a process itself that dates back to ancient times, to care for a natural leather that adapts to any type of product.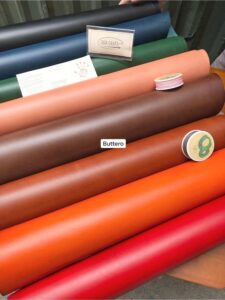 With a superbly smooth top finish, buttero gives a feel in hand like no other leather. Over time this gathers patina that makes the leather glossier. We will note that the leather can mark and scratch easily, but it is this wear that makes the leather only get better with age.
***** IMPORTANT *****
— Free of charge Quick release spring bar and Silver Buckle*** Please be careful when ordering Width LUGS and Width BUCKLE , please measure and check for accuracy before ordering "if you don't know what LUGS and BUCKLE are please check the pictures attached on the listing" specific instructions).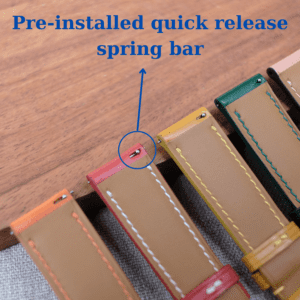 — For example 22/20mm, 22 is the Width Lugs, 20mm is the Buckle Width
— Be careful with the length of the strap, to get the correct length please measure the radius of your wrist and compare it with the list below then choose in the option when order.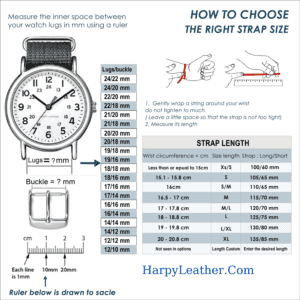 ***Length here is understood as the length of long strap (with hole) and short strap (side length with buckle).
— For example 120/75mm, 120 is the long side, 75 is the buckle side
— See description image attached with listing for a good understanding of length dimensions. If you can't choose a length from the options please choose "length custom" and leave a message with your desired length or any request.
Buttero leather watch strap
This package came with a tool and a pair of spring bar for free. You can easy to replacement the strap. If there is any problem with your receive strap , Please feel free to contact us . We will solve it till your satisfaction.
All watch straps in our shop are handmade to order.
See all of our creations:  https://harpyleather.com/watch-straps/