WHY DO GENTLEMEN NEED TO BUILD THEIR OWN MEN'S WARDROBE
Building a basic men's wardrobe is a simple way to help men improve their thinking about how to coordinate clothes effectively and trendy. Owning a neatly arranged cabinet helps you save time, effort and money while still looking fashionable, stylish and attractive.
So let us tell you simple secrets to start building a beautiful standard men's wardrobe!
Is building a men's wardrobe important?
The answer is YES! If you are still wondering why men need to build their own men's wardrobe, the 3 reasons below are exactly the information you need to care about!
minimalist men's wardrobe
Time-saving solution for men
Have you ever felt that your wardrobe is very monotonous, too little or too much? It's time to build a beautiful STANDARD men's wardrobe. 
Building a minimalist men's wardrobe with basic items and tones, capable of flexibly combining will not take you too much time to choose or mix items together.
Owning a men's wardrobe for themselves, men will not have to rush to work in a poor appearance, fasten buttons or wear socks of the wrong color, shoes that are not are not shiny. The dashing, elegant images will always accompany you with a meticulously cared for men's wardrobe.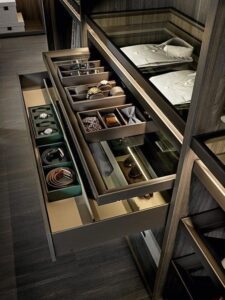 Save time on choosing clothes, you will also have more time for life, focus on important work or spend time on hobbies, or passions.
Good solution to save money
Items that are only meant to be worn on a certain occasion or items purchased but have not been used are really wasted. Therefore, when shopping, you should prioritize basic items that are easy to mix and present in many sets. 
In addition, prioritizing the purchase of clothes and accessories from reputable brands is essential to building a standard men's wardrobe. Usually, these items ensure durability and beauty over time. From there, it meets regular and long-term use, helping to save the cost of buying clothes in a smart and effective way.
Increase aesthetics
Men's wardrobes are arranged scientifically and neatly, which will make the space brighter and more luxurious. Besides, the wardrobe also partly shows your personality, the thoroughness proves the subtle fashion sense, simplicity in lifestyle, high independence and knowing how to take good care of yourself.
Suggest the indispensable items in the men's wardrobe
Some of the Items we listed below are indispensable suggestions for a minimalist wardrobe for men. Let's find out!
Shirts 
Men of any age, in the wardrobe can not lack the shirt. This is considered a basic item, possessing an elegant, neat, masculine and extremely strong fashion style.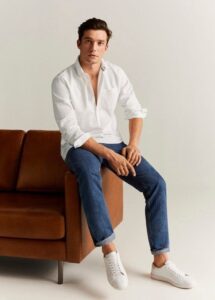 men's shirts
When choosing to buy shirts, you should prioritize designs that fit your shape and have high applicability. For example, men's plain shirts, plaid, checkered men's shirts, etc.
Plain T-shirt
The plain T-shirt with cotton fabric, simple design and color is the first fashion item that must be owned in the men's wardrobe.
In addition to owning regular and oversized T-shirts in your closet, you also need to pay attention to the material. Prioritize choosing cotton, cold spandex or organic cotton fabrics because they are environmentally friendly, beautiful materials have sharp, smooth, good sweat absorption and extremely durable.
Jeans, Casual Pants and Baggy
A minimalist standard men's wardrobe cannot be complete without the appearance of jeans, right? They have become one of the indispensable icons, suitable for most occasions and easy to combine with many styles.
Besides, casual pants or baggy pants are also indispensable in men's wardrobe. You should pay attention to choose good pants material, suitable for body shape.
High-class Vest/uit
Do not think that you do not necessarily have a Vest/Suit in your men's wardrobe, because they are essential for important events. Such as parties, events, weddings, etc.
It is not advisable for you to rent or borrow, because they may not fit your shape but also cost a lot.
When choosing a Suit/Vest, you should prioritize tailoring according to standard measurements. Besides, some tones such as black, gray or navy are the preferred choice because they are quite versatile, beautiful colors and do not worry about being outdated.
Men's Western Shoes or Sneakers
Men's shoes should match the items in the closet. For example, if you're in the mood for a flamboyant style, look for brogues or Oxford leather shoes. 
If you like the dusty look, leather boots are the choice not to be missed. What if you like a youthful, comfortable style of dress that doesn't show a different style? Sneakers and Western shoes are the most suitable choices.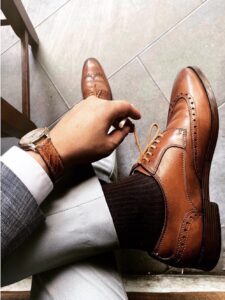 It's important to make sure it's a leather shoe with a nice design, standard form, and good quality.
Refer to the Harpy handmade watch band collection : Harpy Watch Straps
Leather accessories
Accessories are not just for women. Never forget fashion accessories, because they can completely become an important highlight for your outfit. 
Ties, sunglasses, leather watch straps, belts, wallets and bags, etc. will all contribute to raising the level of your outfit, helping you mix and match your clothes more personality and attractive. So make sure you have the best fashion accessories.
Small tips to help you build a beautiful, quality STANDARD wardrobe
If you want to build a beautiful and quality standard wardrobe, don't ignore the criteria of basic form, good materials and a good fit.
Give priority to items that never go out of style
A small but extremely important tip that contributes significantly to building a men's wardrobe is to prioritize items that never go out of fashion. Usually, these designs tend to lean towards minimalism, easily combining with many styles.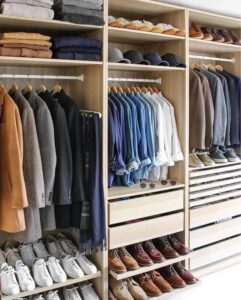 A few suggestions for items that don't go out of fashion such as T-shirts, jeans, leather jackets or blazers, help you not spend too much time shopping. And no matter how trendy the fashion world is, you'll still have something to wear, and stay on top of looking good.
Choose comfortable material, ideal durability
Instead of shopping in bulk, upgrade your wardrobe with quality. Prioritize buying good materials, ideal durability, most comfortable to wear.
Same design, good and bad materials can affect form, aesthetics and durability. One-time investment but flexible use, long time will help you save quite a bit of money.
Care about fit
The key to a quality men's wardrobe here is the fit. Fashion items are only really beautiful and useful when they fit well, enhance the body and make the wearer feel most comfortable and comfortable.
Epilogue
How to help men build a beautiful standard men's wardrobe? Hopefully through our sharing above  can partly help you get more interesting information, understand the importance and ways to build a beautiful standard men's wardrobe, possessing high applicability!
To make your outfit more attractive, don't forget to visit us to see the latest and trending fashion accessories of 2023!