Ostrich Watch Strap
In the realm of luxury watch accessories, ostrich leather watch straps stand in a league of their own. Their unmatched elegance, durability, comfort, attention to detail, and distinctive character make them an irresistible choice for those who appreciate the finer things in life. Embrace the allure of ostrich leather and elevate your watch-wearing experience to new heights of sophistication and style. Indulge in the timeless beauty of ostrich watch straps and make a statement that speaks volumes about your refined taste.
Discover the unparalleled allure of ostrich watch straps, the exceptional qualities and distinctive charm that make these luxurious accessories a must-have for watch enthusiasts seeking unparalleled elegance and individuality.
Ostrich Watch Straps
Ostrich watch straps have emerged as a symbol of luxury and exclusivity in the world of watch accessories. The captivating of these extraordinary straps, highlighting their exceptional features, the benefits they offer, and why they are a coveted choice for those who desire a touch of elegance and individuality.
Ostrich Watch Strap – Unmatched Exclusivity
Ostrich leg leather boasts a distinctive scale pattern that sets it apart from other exotic leathers. Each strap showcases a unique arrangement of scales, making it a truly exclusive accessory. With an ostrich foot watch strap adorning your timepiece, you are guaranteed to stand out from the crowd and make a bold statement of personal style.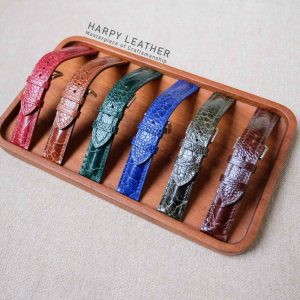 Handmade leather ostrich watch strap
Crafted with utmost precision, ostrich foot watch straps epitomize impeccable craftsmanship. Skilled HARPY's artisans work carefully with this delicate skin, accentuating its natural beauty. From meticulous stitching to flawlessly integrated buckles, every detail is expertly executed, ensuring a luxurious product that surpasses expectations.
Ostrich watch strap – Versatility in Style:
Ostrich foot watch straps come in a variety of colors, allowing you to find the perfect match for your timepiece. Whether you prefer classic black, rich brown, or vibrant hues, there is an option to suit every taste. The versatility in style ensures that you can effortlessly enhance the aesthetics of your watch and express your unique personality.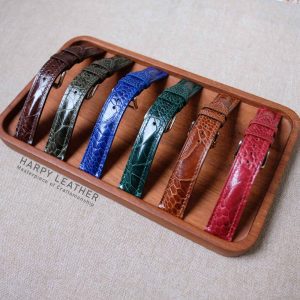 Ostrich watch bands have unparalleled durability
Ostrich watch strap is not only visually captivating but also remarkably durable. The unique texture of this leather lends it exceptional strength and resistance to wear and tear, guaranteeing long-lasting performance. Ostrich leg watch straps can withstand the rigors of daily wear, maintaining their integrity and elegance for years to come.
Ostrich watch strap – Supreme Comfort
Comfort is paramount when it comes to watch straps, and ostrich foot leather delivers. Its soft and supple nature offers a delightful and comfortable wearing experience. The flexibility of the leather ensures a snug fit around your wrist, making it an ideal choice for those seeking both style and comfort.